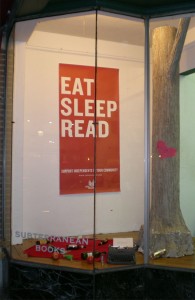 In my first few years as a sales rep, I used to write love letters to my booksellers.

I sent them with the ARCs of particular books that I loved and was trying to give a little extra push. I was on Carl Lennertz's mailing list when he was Mr. Handselling at Random House, and I consciously followed in his giant-sized footsteps: a great read + a passionate note. The only difference in my mind was the scale of the operation.

I've always worked as a sales rep for small to medium indie presses, and distributors of those indie presses - so the ARCs that I have to work with are always at a premium. Because of my publishers' limited resources, I had to carefully choose which booksellers would receive each of those galleys. I would ramble on passionately for a half-page about the author and the book, print out a dozen copies of the letter, tuck one into each ARC, and pop them into mailers.

Each time that I came across a book that I loved in this way, I would mentally walk down the list of bookstores that I sold to and choose the buyers or frontline booksellers who would be most likely to love that book like I loved it. It became a kind of ritual for me - a mindful winnowing of my stores to just the perfect stores and booksellers to make the pitch to.

Since then, I've changed my ways a bit. I still keep track of which buyers like the literary fiction and which ones prefer thrillers, and I try to learn about the tastes & shelf-talking habits of the frontline booksellers. I have all their email addresses, so I can send out an email blast if there's breaking news about a particular book or author.

But now I hold my personal pitches for those special books in reserve until my sales call, so I can personally hand the book over to them and see if the book and the bookseller make the connection. It's a nice echo of the way I used to hand a book over to favorite customers when I was a bookseller. My favorite part of the job!

***

I've been thinking a lot about ideas relating to limited resources over the past few months. We've all had to learn how to make do with less this year - to be more thoughtful of how we spend our time, our money, and our energy.

And that idea of working more mindfully - of working within constraints - keeps cropping up in the part of the publishing and bookselling world I inhabit.

Think of Twitter. I don't know if everyone writes their tweets this way - maybe some people are able to blurt out perfectly-formed thoughts that come in under the 140 character limit - but I tend to run long and then work to edit it down to a tidy epigrammatic length. Now that I've started up this blog after more than a year on Twitter, I'm retraining my brain to think in longer form posts instead of a series of blips.

Despite that 140 character limit, I've read and taken part in more interesting discussions about the future of publishing and about great books, and met more new friends than at the last five BookExpos. Much of the credit for that must go to the circle of publishing folks that I follow on Twitter, who get that it's much more conversation than series of billboards.

For another example, I would point you to two panels that got a lot of attention at the London Book Fair and BEA 2009: Canon Tales (at LBF) and 7x20x21 (at BEA). The idea behind both panels is "pecha kucha" - a series of presenters artificially constrained to 20 slides or images, each shown for just 20 seconds. I missed Canon Tales, but was there for 7x20x21, and it was the most interesting panel I saw in NYC this spring. Some of that interestingness came from the dark anticipation of the "tightrope walker wobbling", but mostly it was a result of this constraint - the speakers needed to focus their thoughts and winnow their words down to their essence. And because of the artful selection of the panel, I got seven creative new publishing personalities in the space of what might have otherwise been one long keynote speech.

***

Likewise, I'm inspired by the curatorial choices that the buyers & owners that I work with make in their indie bookstores. They have acquired a solid sense of exactly which sorts of books will work in their stores and which will not. Their budgets and their smaller store footprints have forced them to develop the good habit of making careful choices. To try to talk them around those constraints is pointless - it's just selling them returns.

In keeping with the theme of my3books, I present three of my particularly mindful buyers/owners.

Daniel Goldin, the owner of newly opened Boswell Book Company in Milwaukee, was my buyer at Harry W. Schwartz. For years, Daniel was one of my required first stops in the season cycle of selling. He would school me in exactly which pieces of information from my sales conference pitches were useless, and what information I was missing. I could go home from that sales call and do the research to make my presentations more effective. (Not coincidentally, Daniel was also the first person to introduce me to Pecha Kucha - he took part in one last summer.)

Kelly von Plonski, the owner of Subterranean Books in St. Louis, has crafted a fascinating blend of underground literature, art book haven, DIY crafter resource, and pop culture gallery. What kind of bookstore is this? The kind where my sales calls usually end with Kelly and I handselling each other the books that we're reading and I end up leaving the store with more books!

Heidi Schmidt has been one of my longest lasting bookselling friends - we met as young booksellers at Anderson's Bookshop - and she is now the manager and buyer at Town House Books in St. Charles, IL. Town House is situated in a beautiful old house in a historic district just uphill from the Fox River, but because of their particular "carriage trade" neighborhood and because of the space limits forced upon them by the building itself, Heidi is one of my most particular, most discerning buyers. There's just no talking her into books that don't fit the flavor of the store. As a result, the book selection at Town House is of the best quality - you could choose a book blindly from any shelf and confidently recommend it for your next book group.

***

My favorite part of having this new blog? I'm back to writing love letters to booksellers.